Milwaukee Divorce Attorney
Wisconsin Family Lawyer Representing You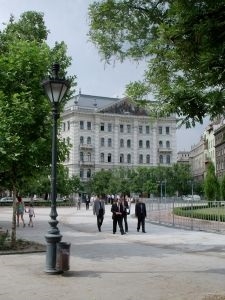 The hardships of divorce are unexpectedly overwhelming. You're taking a high stakes conflict from your personal life and forcing it into a nuanced, complex and unforgiving legal system. Choosing a lawyer with excellent communications skills who will handle every aspect of your case is of the utmost importance. Your case depends on a professional implementation of your goals based on a personal understanding of your circumstances. PERSONAL means not passing you off to a paralegal or a first-year associate. PERSONAL means listening to your unique situation, presenting you with all your options, and offering expert guidance along every step of your path. Choose Milwaukee divorce Attorney James Donohoo for personal representation of your rights to the fullest extent under Wisconsin family law.
A Trusted Authority on Wisconsin Family Law
James Donohoo has presented at Marquette University Law School, was featured in the Wisconsin Law Journal, and appeared on the nationally syndicated "Hannity and Colmes Show" on the Fox News Channel to provide expert legal analysis. This extensive experience will be applied to your unique circumstances when James serves as YOUR:
Personal Milwaukee Divorce Lawyer
Divorce stands among the most trying experiences a person will ever face. You don't have to go through this difficult process alone. Your lawyer should give your case the attention it deserves and answer your calls or return them promptly. Attorney James Donohoo understands the value of communication in building a strong and effective attorney-client relationship. When you choose Attorney Donohoo as your personal Wisconsin divorce lawyer, you receive unfettered access to his unique knowledge, skill set, and extensive experience prudently applied to your ongoing divorce.
Milwaukee Child Custody Attorney
When clients reach out for child custody services, they are often actually looking for help under Wisconsin child placement law. While these concepts sound similar, nuanced distinction matters when it comes to fully expressing your rights under Wisconsin family law. As your personal Milwaukee child custody attorney, James Donohoo will help you understand the difference between "joint custody", "primary physical placement", and other legal terminology to help you arrive at the best arrangement for you and your children.
Milwaukee Adoption Attorney
A Wisconsin adoption comes with a number of potential complications which can be averted with experienced legal representation. Whether you are seeking to adopt through an agency or by an independent adoption, or whether you are a parent seeking to terminate the parental rights of an unfit or absent parent so that a stepparent can adopt, or you are looking to establish legal guardianship as a grandparent or other relative, there may be a course of action not yet considered which will help you achieve your goals. Attorney James Donohoo will gain an in-depth understanding of your issue before expressing your rights to the fullest extent.
Milwaukee Family Lawyer
As a trial-tested Milwaukee family attorney, James Donohoo is an expert in many facets of Wisconsin family law. Practicing in Wisconsin since 1974 has cultivated an understanding of all kinds of special circumstances, including military divorce, high asset divorce, and spousal maintenance claims. This understanding goes beyond Milwaukee divorce lawyer services. James will help you navigate numerous and varied family law issues. As one of the most experienced family lawyers Milwaukee offers, James is well versed in paternity issues, third-party or grandparent visitation rights, and child relocation in Wisconsin and other states. Choose attorney James Donohoo for a personalized approach to solving your unique familial legal problem.
The Smart Choice for Wisconsin Family Law Representation
Under pressure from the difficulties and frustration of a dissolving marriage, people have a tendency to choose family lawyers who mirror their own personality. Some people choose Milwaukee family law attorneys who brand themselves as "aggressive" or "collaborative". Clients who choose Attorney James Donohoo receive personal and effective representation. Aggression is a method to be employed "when the situation calls for it", not a tool. Issues involving children should begin with collaborative efforts. Child custody disputes are a challenging and sometimes necessary facet of a divorce. When your rights to see your child are under attack, Attorney James Donohoo will defend those rights uncompromisingly.
Attorney Donohoo represents clients in Milwaukee, Kenosha, Racine, West Allis, Wauwatosa, Waukesha, Brookfield, Greenfield, Franklin, Oak Creek, Cudahy, Greendale, Shorewood, Whitefish Bay, Glendale, Brown Deer, St. Francis, and the surrounding communities. Remote Wisconsin family lawyer services are available by telephone and email.
Contact Milwaukee family attorney James Donohoo today for experienced legal representation in divorce, child custody, adoption and other issues of Wisconsin family law.